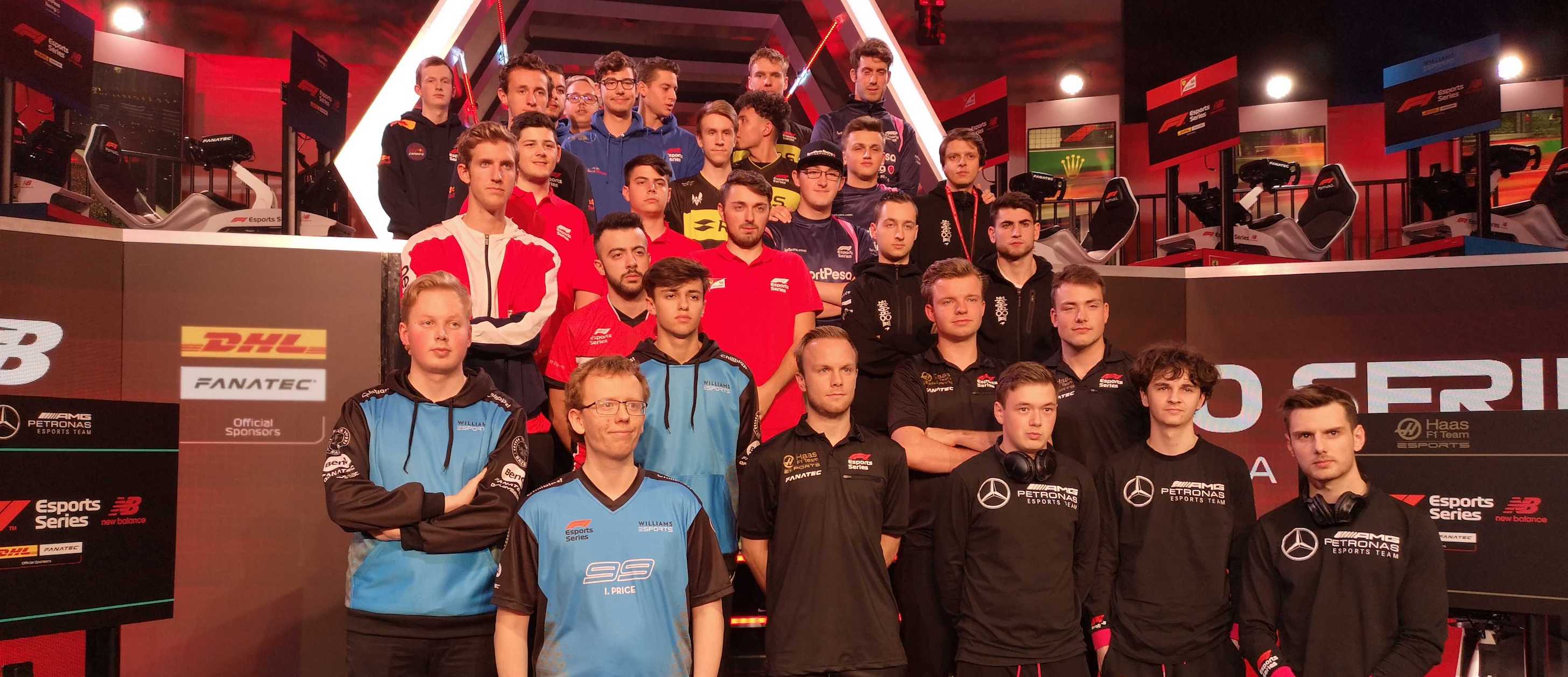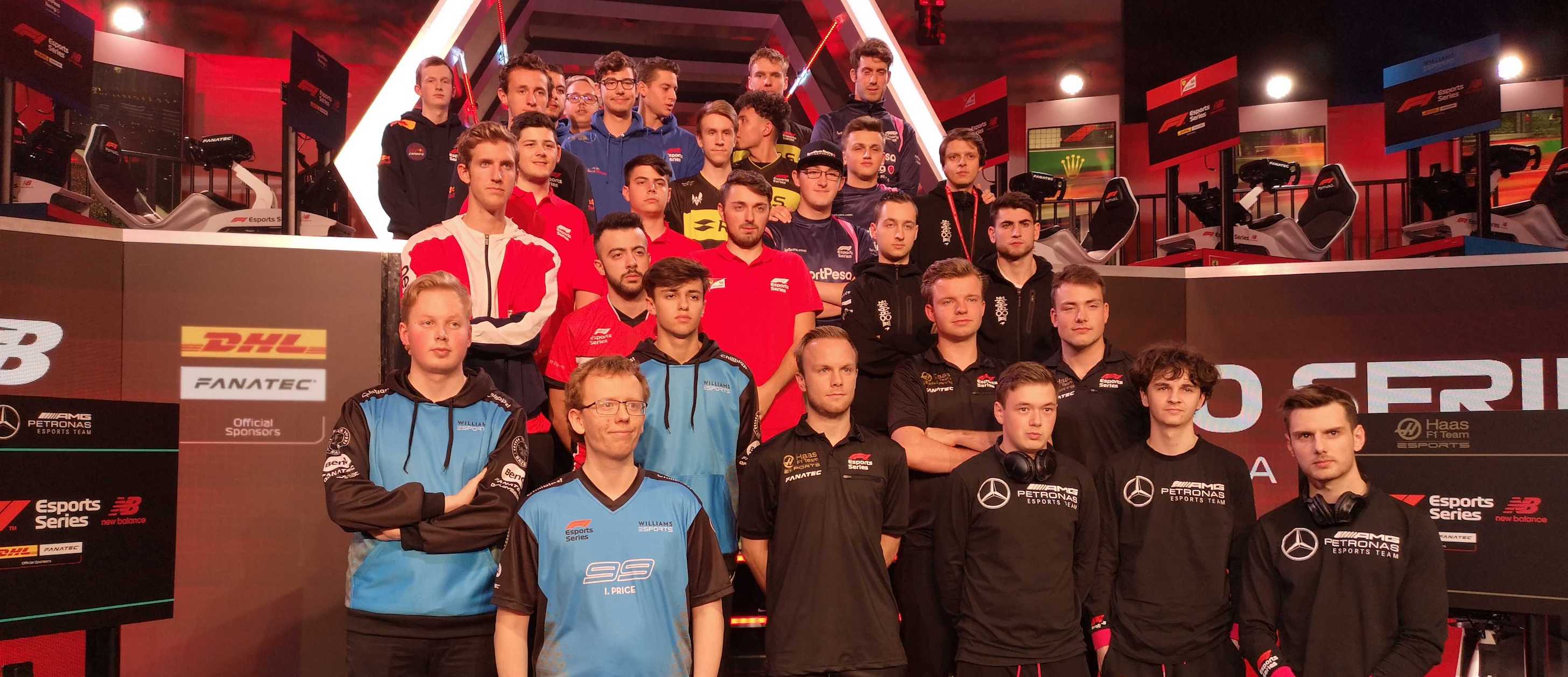 Tonizza Triumphs Again! Three Drivers Taste Victory at F1 New Balance Esports Pro Series Event 2
October 2, 2019
Three races, three different winners, from three different teams!
To say the second F1 New Balance Esports Event of 2019 was an unpredictable one would be an understatement. There was controversy aplenty, and even more close racing, as the Pro Series marched onto its second instalment of 2019.
Two drivers took the top spot for the first time, with David Tonizza also adding a third win to his tally. Armed with a new mascot – Tonzilla – the Italian was in fine form, scoring points in all three races. Here's a breakdown of what went down at the GFinity Arena…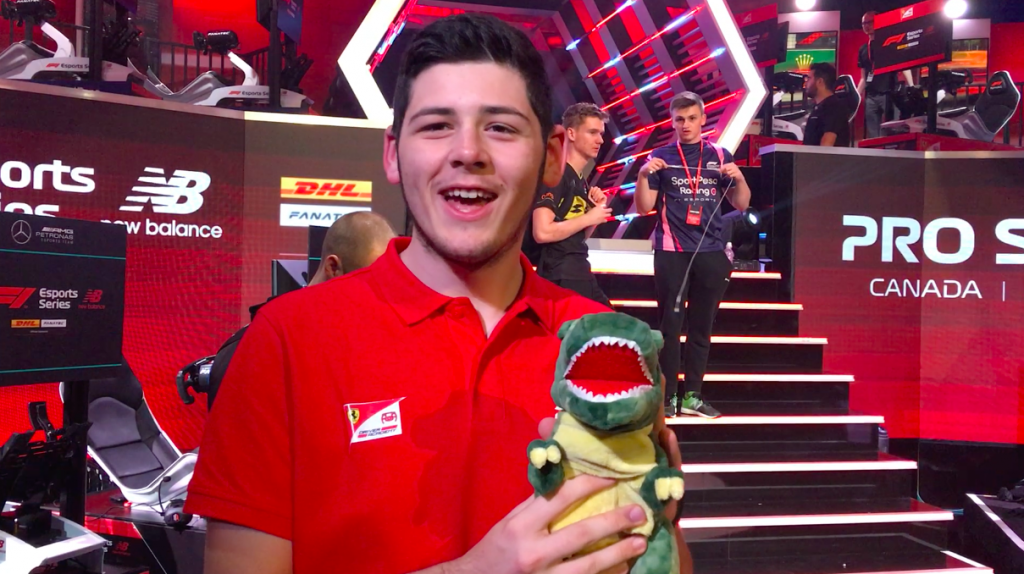 RACE 4 – CANADA
In the first event, he scored but a single point. So it was an incredible turn of events to see Cedric Thome take the top spot in the first race of the evening in Canada. But he wasn't the first to cross the line…
After showing some impressive pace during the third race in Baku last time out, Tino Naukkarinen was the man to beat. Only his second race of 2019, he slammed his Williams on pole in Circuit Gilles Villeneuve to lay down a statement of intent. However, he lost out to the Renaults of Jarno Opmeer and Cedric Thome, who shot into a 1-2 lead at the start.
The rain came down shortly after, providing the first wet race in F1 Esports history. With Intermediate tyres the only way to go, many headed for the pit lane. But that was where Naukkarinen's race unravelled; contact with Opmeer meaning a penalty, and dropping out of contention.
The Finn led home Frederik Rasmussen on-track, but the pair ended up further down the order as a result of penalties. Indeed, a number of penalties for pit lane infringements left many out of position. Reigning champion Brendon Leigh powered through to fourth after starting outside the top ten, but this was improved to second as a result of the penalties. The Briton therefore took his first podium of the 2019 campaign, greatly improving his championship standings.
RACE 5 – AUSTRIA
After a tricky race in Canada, Tonizza bounced back to snatch pole at the Red Bull Ring, and converted it into victory. However, it was not a straightforward affair, with relentless pressure throughout. Frederik Rasmussen kept within a second of the Italian for virtually the entire race, mirroring the championship standings. The crossover from real-world F1 to the virtual scene was clear, with the Ferrari and Red Bull battling in a similar fashion to Charles Leclerc and Max Verstappen at the 2019 Austrian Grand Prix.
This time though, there would be no home victory for the Red Bull team, with Tonizza able to hold Rasmussen at bay. Leclerc and Verstappen banged wheels in Spielberg back in June, but despite 18 laps of close fighting, there was no repeat in Esports. A driver of a different temperament may have considered a lunge down the inside, but the Dane was content to sit behind, and secure those all-important 18 points for second.
Further back, there was yet more back luck for Daniel Bereznay. After qualifying third, he looked set to finish on the lower step of the podium once more. But Enzo Bonito emerging third after the pit stop phase was not part of the plan to say the very least. Neither was the form of Tino Naukkarinen, with whom he made contact with just a few laps to go. His car was damaged, and though he managed to cross the line in sixth, another podium charge was snuffed out. Sixth became fifth for Bereznay after Naukkarinen got a penalty, but that virtual champagne remains elusive for the 2018 vice champion.
Bonito also missed out on a podium after dropping three seconds due to a pit lane penalty. Instead, Ompeer completed the rostrum for the second race in succession to momentarily put Renault at the top of the teams' standings.
RACE 6 – GREAT BRITAIN
After a few near-misses in the opening rounds, SportPesa Racing Point F1 Esports Team's Marcel Kiefer took the top spot for the very first time. After the slow-burner of Tonizza v Rasmussen in Austria, Kiefer was punchy and decisive in his victory.
Tonizza started the Silverstone thriller from pole position, but on Lap 5 he was bested by Rasmussen in a daring move at Woodcote. After the pit stop phase shuffled the deck slightly, Kiefer joined the fray. The German hadn't scored in the opening two races of the evening, but he scythed past for the lead on Lap 11, just two laps from the flag.
Rasmussen picked up his second P2 in a row, making it five heavy points finishes in a row. Behind him was Daniel Bereznay who finally achieved a much-deserved podium, spurring him on to a strong second half of the series. Polesitter Tonizza had to settle for fifth – not what he wanted from Pole, but he still maintained his 100% scoring record, a feat nobody else can now claim.
CHAMPIONSHIP STANDINGS
David Tonizza's three wins earmark him as the runaway leader as we reach half-distance. However, he is not without challenge. His emerging nemesis Frede Rasmussen is just 12 points behind, with 92 points compared to 104 for the Italian.
In third place is Renault's Jarno Opmeer on 59, with new winner Kiefer fourth on 56. Reigning Champion Brendon Leigh sits fifth, with a nice round 50 points.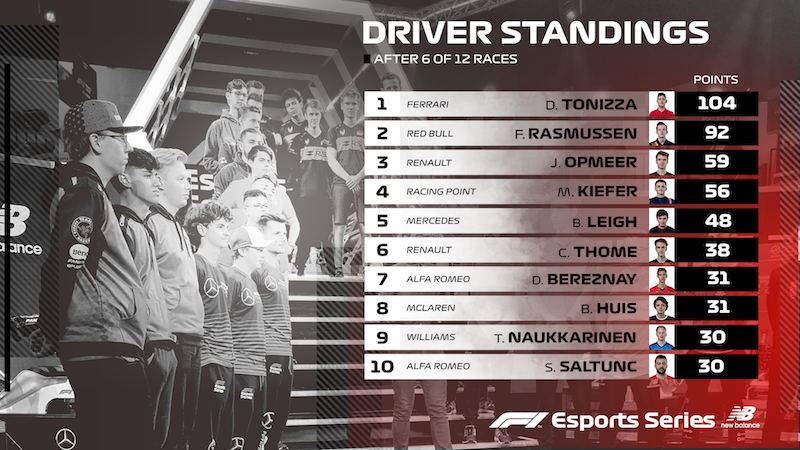 In the teams' standings, Red Bull Racing Esports lead the way on 109, with Ferrari Driver Academy snapping at their heels on 104. Renault are just a further three points behind them on 101, making it a hugely close battle.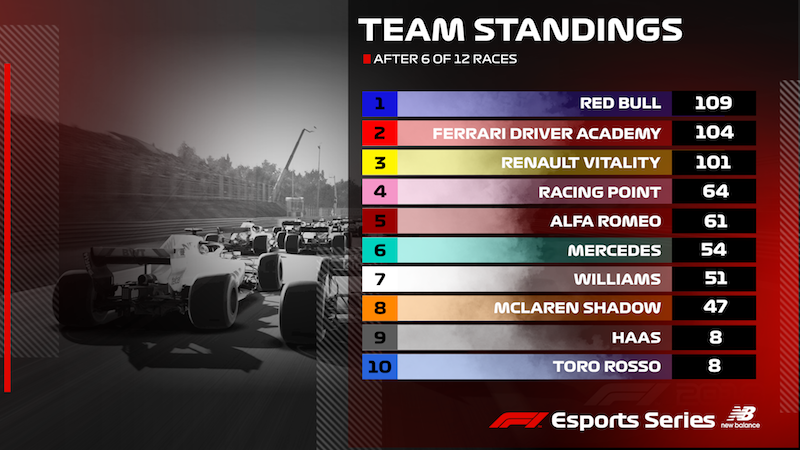 There are still six races to go in the F1 New Balance Esports Pro Series 2019. Where to next? Join us for Rounds 7-9 on Wednesday November 6!
---
Share this article